A fun and educational workshop for preschoolers and their parents/carers.
Find out if your child loves to learn the piano/keyboard. A Great way to start learning and fun for Mum or Dad too!
The Kindy Piano Workshops (next worshop locations and times...) introduces the basics of music, keyboard/ piano skills in a fun and easy to understand way. Lots of exciting games and activities, percussion instruments and songs.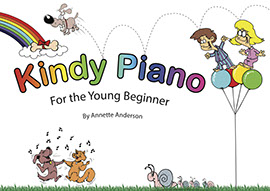 Kindy Piano Music BookThe Kindy Piano music book is special designed for the young beginner. The full colour book contains all the materials needed for the Kindy Piano Workshop.
Parents learn useful information on how to encourage your child to learn the piano and strategies for getting your child started.
All children receive a special completion certificate!
Suitable for children aged 3 to 6 accompanied by carer or parent.
Location and Times
The time and location of the next Kindy Piano Workshop is;
Location: Glenwood Community Hub - Glenwood (map and directions).
Date: Sunday 24th September
Time: 11.45 am
Duration: 45 minutes
Cost: $30
Presenter: Annette Anderson
B. Mus. Ed. (Sydney Conservatorium of Music), A. Mus. A (AMEB)
25 years experienced Music teacher, musician, music examiner and
Director of Children's Music Academy
Kindy Piano Weekly Classes
Children who discover they love learning piano are welcome to attend our regular weekly classes held throughout the year on weekdays and weekends.
Bookings and Enquires
For all enquires regarding fees and bookings please contact Annette by using the general contact form or by phone on 0418127017 or by email using info@childrensmusicacademy.biz